The homecoming horse by Jackie Merchant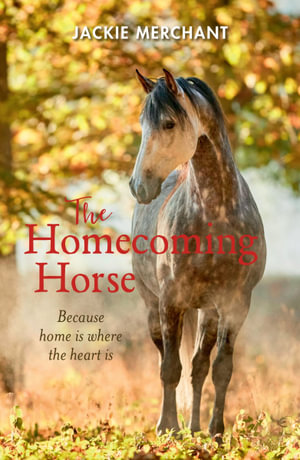 Black Beauty, The Silver Brumby series, Alison Lester's The Snow Pony etc, etc... There is always a readership for horse books especially amongst girls of tween and teen years. Jackie Merchant, author of The homecoming horse knows horses and horse people well. The homecoming horse (Douglas) goes home in the most convoluted and surprising way and he takes Kennedy and her father Josh home with him. The home that they found was not what they had expected but it's definitely home.
There is sadness as in every horse book. That is expected. Sadness, cruelty, rescue, the developing bond of trust between horse and girl are a must. Horse books must play on the emotions of the reader. The story cannot be about an easy pampered life. The more fraught with sorrow and desire and hope, the better for lovers of this genre.
The homecoming horse serves sadness, trouble and nasty characters up to the reader. Kennedy and her father are homeless. Their family farm was bought out as they couldn't survive another year of drought. Kennedy's mother left. Kennedy and her father have been living in the back of a horse truck, travelling to remote stock camps wherever Josh can find work. Ofcourse - into the story steps a horse and the horse is suffering at the hands of its owner who calls it "Ugly". Even though they cannot afford to keep a horse, Kennedy and her father take on the horse as part payment on a debt. Even though Kennedy knows she shouldn't develop a relationship with this horse of course she does and even though he is supposed to be useless well... There is a competition - 'The Great Southern Campdraft' - first prize $150000 and it costs $5000 to enter it. Kennedy and her father have no money... Douglas is unsure of himself; he needs to be trained in a very short period of time. Kennedy is a gifted rider. She understands how to synchronise with a horse...
Can hardship be turned around? Merchant is an experienced horse owner and rider. Her parents bought a run-down riding school on the outskirts of Sydney when she was ten. She knows the competition circuits in rural Australia where horses like Douglas work on cutting and herding cattle into tight runs. She knows the people. Her narrative holds the readers' attention, holds out hope, doesn't flinch from the petty nastiness of low characters and the contrasting love, strength and strong ethics of other characters.
There seems to be a stage in life when many young readers seek the heightened emotions found in horse books - in the searing trust relationships between humans and animals. The homecoming horse is a beautiful story - a perfect choice.
Themes: Horses, Finding home.
Wendy Jeffrey