The Hawthorne Legacy by Jennifer Lynn Barnes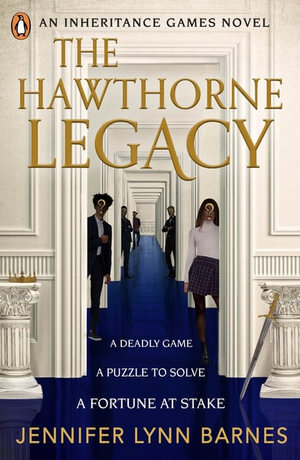 Anyone who loves a twisty intriguing mystery will immediately want to grab The Hawthorne Legacy, the sequel to The Inheritance Games. It follows immediately from the events in the first book, and heiress Avery Grambs is on the hunt to find out why the billionaire Tobias Hawthorne left his fortune to her and not to his children and grandchildren. Assisted by the charismatic brothers, Grayson, Jamieson, Xander and Nash, she must sort through clues left in wills, on walls and on rings, at the same time avoiding the paparazzi and threats to her life. Then there is the allure of Grayson and Jamieson; who is the one she would see standing with her alone on a cliff?
Avery's name, Avery Kylie Grambs, is an anagram for "a very risky gamble" and Avery is certainly up for some gambles, least of all on who she can trust. As the group goes on the hunt to decipher the enigmatic clues left by Tobias Hawthorne, Avery is determined to find Toby the long-lost son believed to have died in a fire. There are some unexpected and heart-wrenching scenes as secrets start to unravel, and some moments that will leave the reader breathless as Avery faces death threats.
Not only will the intrigue keep the reader in suspense, the background of living as a billionaire is also fascinating. Who wouldn't want to live in a mansion with secret doors and tunnels, a vault with priceless jewels, private jets and many, many gorgeous estates scattered over the world? But who would want to have to face the press and have their face plastered over newspapers?
I couldn't put The Hawthorn Legacy down and look forward to reading other books by Jennifer Lynn Barnes (there is a small hint at the end for the group to solve more mysteries). Fans of Karen McManus (One of us is lying) and E. Lockhart (We were liars) would enjoy this series.
Themes: Mystery, Clues, Romance.
Pat Pledger