The glint of gold by Kate McGann & Patricia Ward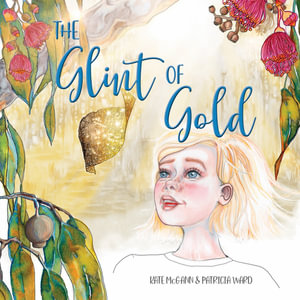 Kate McGann, an Australian author, teams up with Patricia Ward, whose illustrations are truly whimsical and with a suggestion of the 'glint of gold on' every page. The front cover will draw any child in to want to read it. With that beautiful gold leaf falling from the tree and the happiness on the child's face.
From the very beginning of this wonderfully illustrated book, the reader believes that the gold can be seen, but what really is it?
The young girl telling the story draws the reader in to believe that hope is all around us in our everyday lives. It is about hope and believing in yourself. You need to look around you, that glint of gold is everywhere. It's in the blossom of trees, in the classroom. It doesn't have to be seen, it's what you hear, feel and touch. That glint of gold can strike when you complete that tricky math problem, or when someone gives you a hug. The glint of gold is what makes you happy.
I would highly recommend this book to readers. I would also use it for wellbeing lessons.
Themes: Wellbeing, gratitude.
Natalie Fisher