The fast 800 easy by Dr Clare Bailey and Justine Pattison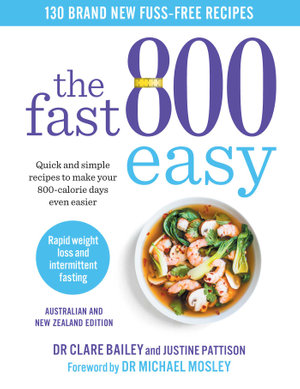 Subtitled Quick and simple recipes to make your 800-calorie days even easier, this book will be very useful for anyone who is trying to follow The fast 800 by Dr Michael Mosley. But it is not just useful for those on that diet, I tried some of the recipes and found that many could become a staple meal in my household. What is also useful about the recipes is that many of the ingredients could be ones that you have stored in your pantry, have on hand normally or could be easily obtained in the local supermarket.
The Feta, pea and mint crustless quiche was quick and easy to make, and I will keep a pot of mint handy as I intend to make this one again. It was delicious with a simple salad, and ideal for summer. The Easy frittata was easy to make, another egg dish that can be made quickly if you want to diet, or if your fridge is running low on meat!  The Prawn zoodles and spaghetti with chill and lemon  was also very tasty as was the Creamy cashew and pumpkin curry which can be served as a vegetarian dish or have meat added.
Each recipe was accompanied by a colourful illustration and the dishes that I made actually looked like the photos!
An easy-to-understand introduction to the 800 diet was given. There was a contents page, a good index and a 7-day meal plans were included.
I found this to be a very useful recipe book, easy to use and well-illustrated. It is a keeper for me and I can see my grandchildren being able to make some of the recipes.
Themes: Recipes, Diet.
Pat Pledger