The ever after by Amanda Hocking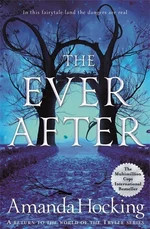 The last of The Omte Origins trilogy, The Ever After is the exciting conclusion of Ulla's search for her heritage. The novel starts out with Ulla realising that she has no memories from the past month, and she learns that she and her friends were held captive by the man claiming to be her father. Determined to find out what happened to them in the lost month, Ulla is willing to do whatever it takes to uncover the truth. What she finds may change everything.
The Ever After is the third and final book in The Omte Origins, and is a contemporary urban fantasy, where Trolls live hidden among humans, as well as having Troll only towns (think Hogsmeade in Harry Potter). While the previous books delved into Troll politics, this book dives into action and adventure. Detailed and more fast paced than the first two in the series, The Ever After will answer questions from the first two books while exploring the Troll world even further. While there were minor fantasy aspects in the first two books, Hocking has nicely rounded out the trilogy with more Troll magic and mythology. Throughout the series, the politics of Troll society have been covered - which includes the racism that half trolls encounter, which could be compared with current society. Hocking uses descriptive imagery throughout the series, with great detail. As with the previous books, there is an extensive glossary for Troll terms used in the book found at the end of the story.
Themes: Mystery, Self Discovery, Relationships, Urban Fantasy, Folklore/Myths and Legends.
Melanie Phillips