The emu who ran through the sky by Helen Milroy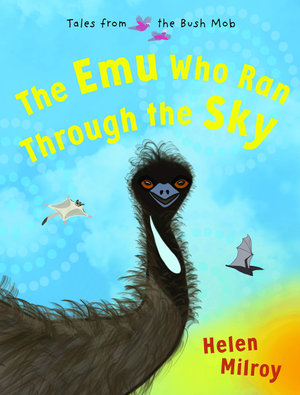 The second in the series Tales from the Bush Mob, is aimed squarely at kids between 5 and 10 with emerging literacy skills, and importantly use First Nation stories to garner resilience and strength.
The emu who ran through the sky tells the tale of Lofty, a young emu mad about winning the race that is held each Sunday by the mob, celebrating afterwards with a feast. But Lofty in his eagerness trips over his big feet and causes others to fall. The kookaburras keep laughing, as do some of the other emus and when Lofty asks them to race with him for practice, they walk away. He must practise by himself.
He tries to harness the wind to help, but the wind buffets him and seeing an eagle fall to the ground after being hit by lightning, Emu goes to help. Eagle becomes his friend and wants to help him win the race, and suggests that he learn to fly. They seek the help of several other animals, the reader learning a little of that animals' attributes as they try and help Emu.
Eventually, the Bush Mob comes to the rescue with an ingenious paragliding kite that helps him soar over the others.
Emu's resolve, his strength and perseverance win through, and with the help of his friends, wins the day.
Helen Milroy is a Pilyku woman from the Pilbara region of Western Australia. She presents us with a rich cultural story based on strong environmental themes, promoting courage, perseverance and friendship.
Strong earthy colours dominate the book, reflecting the colours of the outback, stark against the endless blue of the sky. Aboriginal motifs are used to strengthen the images and the animals are presented with looks that speak louder than words. I love the endpapers depicting a map of the area, all told through the places where animals reside.
Themes: Aboriginal themes, Emus, The Bush Mob (series), Australian animals, Perseverance, Resilience.
Fran Knight