The echidna near my place by Sue Whiting. Illus. by Cate James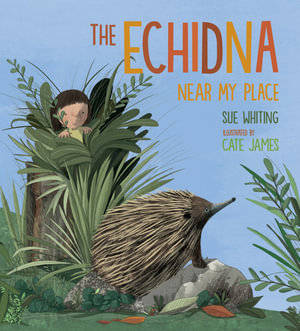 Through the story of the echidna that lives nearby we are given an informative easy to absorb, thrilling tale of survival. 'Every word is true'; the back cover reminds us when presenting another in the wonderful Nature Storybooks offered by Walker Books.
Near the mountain where the hang gliders jump off the cliff, a girl and her grandma walk in the scrubby bushland on its slope. Here they sometimes see an echidna, one of the oldest surviving mammals on this planet.
Through her story of an amazing encounter with the echidna, we see what an echidna eats, how it survives, where it lives and what it looks like. All of these facts are part of the story, and given support from the differently fonted paragraphs on each page which read more like an information text. Both sets of text intertwine, giving readers a non fiction text alongside a story, each adding facts and substance to the fictional tale of the encounter.
This stunning story, brimful of information which readers will absorb without effort, adding to their knowledge of Australian mammals and our environment is beautifully supported with digital illustrations giving a stunning panorama of the bush in which the child and the echidna live, begging readers to point out the detail of what the echidna eats and where it lives, and what things are in its environment. The rich illustrations actively involve the readers in spotting other Australian animals living in the scrubby bushland, while the diet of the echidna is reprised on the endpapers.
The girl talks to her grandma about what she sees: the strange ambling walk, the long nose, the pointy spikes while the text underneath tells us more about each thing that she notices, giving it a more scientific basis. So we learn that the snout is about eight centimetres long, useful for burrowing in termite mounds and foraging for food. We learn that the backwards facing feet are used for moving soil out of the way when the echidna digs with its very strong front claws. We learn that the female has one egg at a time and that it is kept in her pouch while it feeds on her milk.
An index at the end of the book will help younger readers learn the way to find information in a non fiction book, while a page of information is given adding to that of the text. A brief note about the author and illustrator rounds out the book
I found all the information fascinating, written in such a way as to entreat younger readers, allowing them to see themselves walking along a bush track and spying an animal too, and given information about how to respect the animal in its habitat. Classroom ideas are available.
Themes: Australian bush, Echidnas, Australian animals, Environment, Bush, Grandparents.
Fran Knight