The dark remains by William McIlvaney and Ian Rankin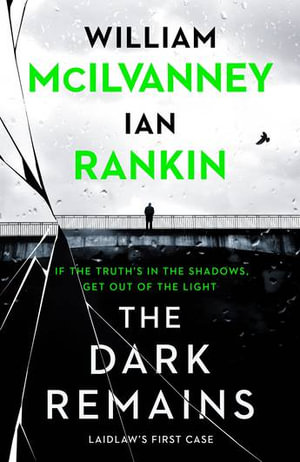 When McIlvaney died in  2015, he left behind a hand written manuscript exploring the first case of his detective, Laidlaw, the lead of his previous novel, simply called Laidlaw. Rankin was given the material to complete for publication and so two well known and much followed actors came together, one Glasgow, one Edinburgh.
It is a wonderful tale, the laconic Laidlaw lives some of his time in a hotel, leaving his wife and children in the suburbs, a situation he explains away as allowing him to get to work more quickly. But he is no longer in love with her, the tedium of being at home disappoints him and he prefers to stay away.
In this book he is teamed with Bob Lilley who is warned of Laidlaw's singlemindedness, his inability to work as part of a team, placed in this station as a last chance. Lilley must mentor him, and every crime fiction reader will know that Lilley is in for a hard time. But he rolls with Laidlaw's behaviours and the readers will love Lilley for his handling of a difficult situation.
A gang boss, Bobby Carter  has been murdered, one of the four who surround their boss, Cam Calvin with muscle. With his body dumped in the territory of a rival crime boss, Jack Rhodes. Laidlaw can smell a rat, and goes searching for clues which will uncover what is really going on behind the scenes. The dead man had been dating Jenni Love, daughter of a one time football hero of Glasgow, now relegated to being a coach of the lesser teams. Jenni had also been dating a strong arm man for Rhodes, and so things do not seem quite right to Laidlaw.
DI Milligan is in charge of the case and he deals with Laidlaw in a way that gets under his skin, so he rarely shares information or sets foot in the office. But he ferrets away, talking to the most improbable of people, barging into homes where he is clearly not welcome, keeping his eyes and ears open to any changes.
Glasgow in the 70's is brought to life as Laidlaw takes buses to appointments, visits criminals in their homes, scours the seedy backstreets of the city. And when he finally nuts out what really happened, it is up to him to present the case to the Commander, despite the best efforts of DI Milligan.
A stunning read which will send readers to the other book about this eponymous detective.
Themes: Crime fiction, Domestic violence, Glasgow.
Fran Knight