The daring reef rescue by Rebecca Timmis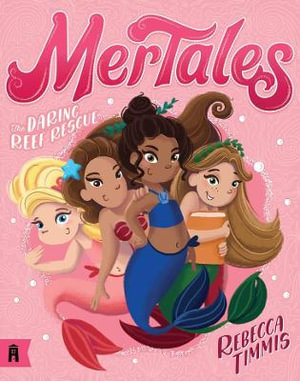 The Daring Reef Rescue is the second book in the enjoyable MerTales series written and illustrated by Rebecca Timmis. The four diverse mer-friends: Pearl, Sandy, Coral and Shell have very different personalities and always look out for each other. They have all recently discovered that they have amazing new magical powers after a meteorite zooms into the ocean and in this story they will use these unique powers to help save their reef habitat from an unexpected visitor. Disappointingly for timid Shell, her magic power takes longer to present itself but when it does it is incredible.
The primary focus of this new story is the Fancy-Fins Dress up Party. Younger readers will love the preparation of masks for the event at Mer-school and the costumes they all wear. During the party, the friends have an adventure with a large, turquoise sea turtle that has lost its way. They combine their magical powers to solve the problem and create a club for themselves called FINS - Fish In Need Society - where they will use their powers to help all sea creatures.
For those emerging readers progressing to short novels this is a perfect fit. The appealing monochrome illustrations with the addition of blue tones and the use of highlighted mermaid and descriptive words is both clever and entertaining for the reader. At the end of the book the author has thoughtfully added some fun Fin Facts about aspects of the ocean and its creatures. A very engaging series with book three, The Great Treasure Hunt, coming soon.
Themes: Mermaids, Sea Creatures, Adventure, Magic Powers, Friendship, Problem Solving, Fantasy.
Kathryn Beilby