The couple at the table by Sophie Hannah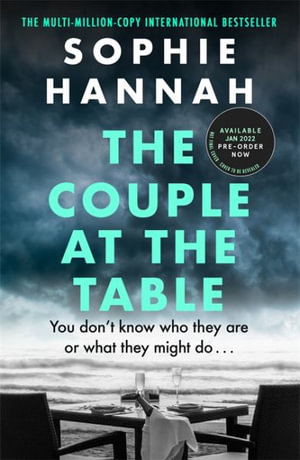 Six couples at a secluded, private resort. Should be a lovely holiday for all of them, especially the couple there on their honeymoon. But after the bride, Jane Brinkwood, receives threatening notes, things escalate and when she storms off from dinner, the rest of the guests are left shocked. Then when she is discovered dead shortly after, all the guests are suspects - but they all have solid alibis, including the police couple who were the last to check in at the resort. They immediately start the investigation, but the resort has limited access points, and the only suspects were together at the time. It looks like an unsolvable murder. It's now months later and the case has been lost its momentum. Lucy, guest at the resort, who happens to be the ex-wife of Jane's newly widowed husband, is desperate for answers. She sends a letter to the murderer - but she doesn't know who it is, so she sends the letter to all the guests, reopening the investigation.
Set in England, this cozy murder mystery revolving around multiple couples is written from multiple perspectives. Moving from past to present, the story jumps seamlessly for readers to enjoy the added elements to the mystery. It is well written with plenty of twists and interesting characters. Part of the 'Spilling CID' series written by Sophie Hannah, this novel sees Detective Constable Simon Waterhouse and his wife, Charlie Zailer, Detective Sergeant, on holiday when the murder is committed. The novel doesn't indicate that it's part of a series, nor does not having read any detract from the experience. Good read for those who like a light, yet twisty mystery.
Themes: Mystery, Crime, Suspense, Murder, Relationships, Betrayal.
Melanie Phillips