The Christmas pig by J.K. Rowling. Illus. by Jim Field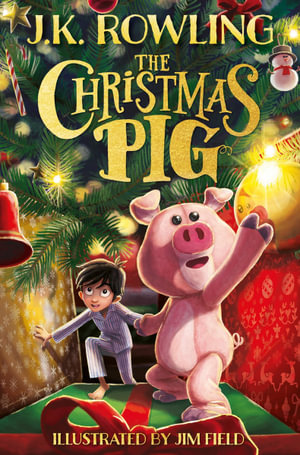 Jack's life has changed so much - his parents, his school, his home. The one thing that never changes is DP (Dur Pig), his faithful toy pig. Jack has always been able to tell DP everything, and find comfort when things are bad. But then, Christmas Eve, the worst happens - DP is lost. To Jack's surprise, Christmas Eve is when miracles can happen, things come to life - like toys... even Christmas Pig (DP's inferior replacement). When Christmas Pig suggests they travel to the Land of the Lost to find DP, Jack doesn't hesitate. Finding their way through the Land of the Lost while avoiding getting caught by Loss Adjustors or the toy-eater Loser is going to be a difficult task, but Jack is willing to try.
This energetic, action paced urban fantasy is well suited for primary aged readers and adults alike. To be taken into a world where things have feelings and emotions, readers may begin to treat their belongings with more care - and try to find lost items quickly! Rowling has again created a world where readers are quickly immersed into the main character's life, with plenty of relatable characters, as well as some who help drive the story (love to hate perhaps?). Divided into sections with short chapters and occasional detailed, stunning, illustrations, this engaging Christmas story has something for everyone - adventure, discovery, devotion and persistence, and is sure to be a family favourite for years to come. While essentially a Christmas story, this book can be read year round as its message of hope and devotion will encourage at any time of year.
Themes: Fantasy, Friendship, Loss, Lost Things, Memories, Adventure, Courage, Devotion, Hope.
Melanie Phillips