The break by Phillip Gwynne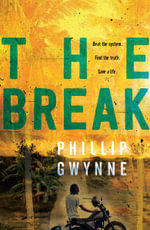 Sixteen-year-old Australian Taj is living in Bali where life is complex. Idyllic at first, living in Bali is now complicated, since his dad was arrested for smuggling drugs ten years ago. Kimbo, Taj's dad, has been on death row in Kerobokan Prison ever since. Taj visits his father in prison regularly, feeling that life is in limbo with all that is going on. Then an execution date is set, and Taj knows he can't let it happen, he has to do something. Only thing to do? Arrange a prison break and get his dad to Australia. Simple enough, right? Not quite, as Taj discovers. What unfolds is a series of bad breaks, danger, and life on the run. While fighting for his father's freedom, Taj learns more about his family, and starts to uncover truths he never expected.
Set mainly in the Indonesian island of Bali, this action packed coming of age story is fast paced, full of strained relationships, lies and twists throughout. Told from multiple perspectives, the short chapters enable readers to proceed swiftly through the well written story. Readers will find the characters relatable and enjoy learning more about each character as the story progresses. Several common threads are found through the book - surfing, justice and truth. Ideal for fans of contemporary fiction, surfing and readers of true crime, as the death penalty is still controversially in practice today. This is a harsh reality that has been written about really well in the book, with numerous characters having different thoughts about the case described. With partying, swearing, prison life and the death penalty, it is recommended for readers 12 and up, ideally those mature enough to handle the themes.
Themes: Contemporary, Surfing,Australia, Bali, Drugs/Drug Smuggling, Prison, Justice, Human Rights.
Melanie Phillips