The boy from the Mish by Gary Lonesborough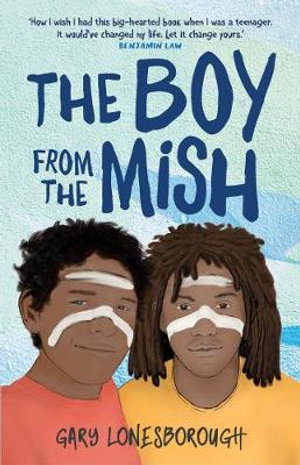 Beautifully written, this is a gentle romantic story about Jackson, a young Aboriginal boy gradually coming to terms with his sexuality and his attraction to the new guy just out from juvenile detention, taken under the wing of his Aunty Pam. Jackson and Tomas are thrown together, when Pam's family comes to stay over Christmas, but the wariness slowly gives way to a tentative friendship and collaboration on Tomas's writing project, and then the beginnings of a deeper relationship.

There are plenty of tough issues brought up in the novel: racism, bullying, homophobia, victimisation by police, and alcohol abuse, but the strengths of the Aboriginal community, the family, camaraderie of friends, and the care and spiritual guidance offered by elders shines through it all.

But most moving of all is the love story – there are moments that will bring tears to your eyes. Lonesborough has said that he wanted to write a book that didn't exist for him when he was young – a YA story featuring an Aboriginal LGBQTI+ character. You can hear him discuss the genesis of the novel in a Booktopia podcast and his hope that it will offer comfort and reassurance for some young readers. But I think any reader could not fail to be moved by this story.
Themes: Identity, Sexuality, LGBQTI+, Aboriginal community, Racism.
Helen Eddy