The bone tiki by David Hair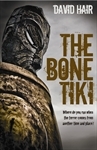 HarperCollins, 2009.
ISBN 9781869507343.
(Age 11+) Recommended. Very reminiscent of The Dark is Rising by Susan Cooper, this powerful novel stretches the reader's imagination in a fascinating way. For readers not familiar with the Maori stories there is an added layer, a little like the Australian dreamtime stories. To share the parallel words in New Zealand, then and now, makes for a fast moving, many times bloody and gruesome journey for Mat. He made his parents a pendant, the Maori half for his father and the Celtic knot for his mother. Mat lives with his lawyer father, his mother now lives in Taupo. Through a convoluted series of incidents, Mat has the man shaped tiki which Puarata wants for his evil dominance. Mat Wiri, Kelly and a dog (who has other forms) called Fitzy embark on a quest to free Wiri from the hated Puarata. The creatures, people and towns from an earlier time give the reader a realistic feeling for another time, through Mat's eyes. It's an exciting time travel, with well rounded characters, both good and evil.
Sue Nosworthy.