The bird in the herd by Kathryn Apel and Renee Treml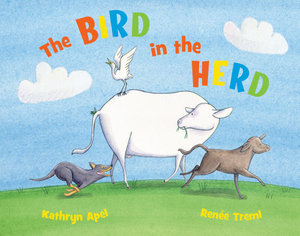 The soft watercolour and coloured pencil illustrations reflect the farm in which a herd of cows quietly much the grass, stirring up plenty of slugs and bugs underfoot. These insects are snapped up by the bird in the herd as it opportunistically follows the cattle waiting for its lunch.
So the scene is set, and children will love repeating the lines, practising the new words and tasting their rhythm as over the page another two lines are added, telling of the dog, then the drover on his horse appears, sitting on his saddle, looking over his herd of cows. All is at it should be.
But in the distance is a cloud of dust and eager readers and listeners will pick out the fly in the ointment. The peaceful setting is about to be disrupted, the calm of listening to the cows chewing their cud, of the bird picking out the morsels from the earth turned up by the hooves, is shattered when a car appears. It flies up swirls of dust, and the coot driving the ute toots and hollers as he passes by. The inevitable happens as the cows scatter, finding shelter in the paddocks beyond, hiding behind bushes and trees.
Readers will love trying out the verses, predicting then remembering the rhyming words, practising the sounds. They will be intrigued by the pleasant day being had by all in the field until an interloper stirs everything up. The bird flies away, and the last double page will make readers pause and search to find the cows hidden in the field.
This charming story will encourage readers to think about the relationship between animals as one surprisingly helps the other, while the actions of one unthinking motorist upsets the apple cart.
Readers will love picking out the features of the farm and all of tis occupants, detailed in the soft edged illustrations, and some may be intrigued with the pun on  the saying, ' a bird in the hand is worth two in the bush'.
Themes: Farms, Cows, Motorists.
Fran Knight