The Bellbird River Country Choir by Sophie Green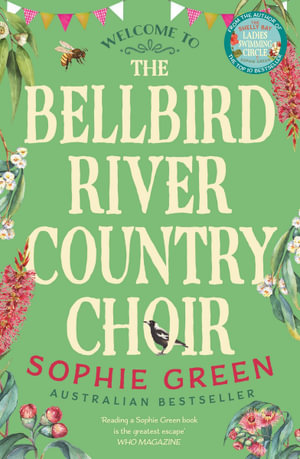 Seeking to escape the build up to the 1998 Olympics in Sydney, single mother, Alex accepts a country teaching placement, hoping the cheaper housing and slower pace will allow her more time with 11 year old daughter Kim. They move to the small town of Bellbird River near Tamworth. Victoria has lived here all her life, but the large family house now seems very empty since her children left home and she discovered husband Arthur was having an affair with the Mayor's wife and she threw him out. The return of globetrotting opera singer, cousin Gabrielle is a comfort, the two having bonded in earlier years when the house was a refuge for Gabrielle escaping the domestic violence of home. Now Gabrielle is coming to terms with the possibility she may never regain the full use of her voice after surgery. Recently released from jail for stealing money from her employer, Debbie is making a new life for herself as a housekeeper on a property not far out of town. Her goal is to reunite with her children, now in the custody of her remarried ex-husband. Then there is Janine, working in her parents' bakery, making art, worrying about her schizophrenic brother and making poor relationship decisions. In alternating chapters each of the many characters' challenges unfold, (I recommend keeping notes for reference to avoid having to go back to check which character is which) and the uniting thread is their membership of the local choir where they find support and friendship.
This is a predictably heart-warming book for lovers of women's fiction that is not too challenging. However in spite of the assertions of the interconnectedness of this small town I never got a sense of place or time. I found the characters a bit one dimensional and the main character, Victoria, confused; at one moment stand offish and proud and the next a caring volunteer involved in the community. Readers of Sophie Green's other novels will enjoy the predictability of this comfortable read.
Themes: Friendship, Family, Community, Singing.
Sue Speck