The bark book by Victoria Mackinlay and Beth Harvey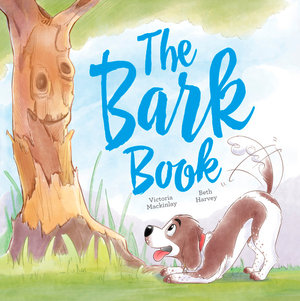 (Age: 2+) Recommended. Children will be immediately drawn to the happy brown and white dog with the bushy tail barking at the tree bark on the cover. After opening the book to the gorgeous double page spread of a lovely tree the reader knows that a treat is in store.
The illustrations are a perfect accompaniment to the sparse text. "Sad bark" sees a mournful face of the little dog peering out a window, "Blue bark" shows him sitting on a sofa waiting, and then the next two pages show a girl coming home from school and an exuberant dog dancing on one leg to "Love you too! Bark." Children will giggle at the 'Leg up …" and "Wet bark" and enjoy the word play of "rough bark" on the trunk of a tree as well as "Heal bark" and Heel bark". And of course, the "time for bed bark" at the end of the book makes it a perfect bedtime story for young children.
The repetition of the word 'bark' will make it an easy book for young children to memorise and enjoy while the expressions on the little dog's face are just delightful.
The bark book is a keeper for me and is sure to be enjoyed by toddlers and their caregivers.
Themes: Dogs, Word play.
Pat Pledger