The angel of the crows by Katherine Addison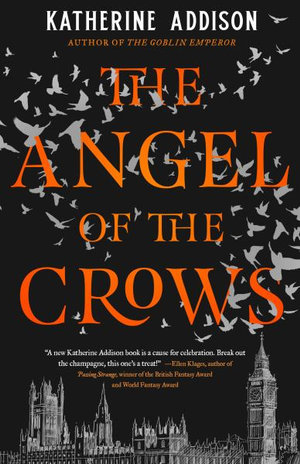 Anyone who would enjoy a retelling of Arthur Conan Doyle's stories is sure to enjoy this book which originated as Sherlock wingfic, according to the author's note at the end of the book. Thus, the reader will find that here Sherlock is an angel named Crow, who is often called upon by the police to help solve crimes. Meanwhile Dr Doyle (Watson), who has arrived in London with an injury caused by an Afghani fallen angel, is introduced to Crow and shares an apartment with him in Baker Street. There are fallen angels, werewolves and vampires scattered throughout the book as Crow and Doyle go about the business of solving crime. Interspersed between the chapters of familiar retellings, the most famous of course, being The Hound of the Baskervilles, are the murders committed by Jack the Ripper as the popular press has named the person who is mutilating prostitutes.
I had not read the Sherlock Holmes books since my youth and for me many of the stories were fresh. I enjoyed the supernatural spin on them as well as the updating of some of the gender stereotypes. Addison's Victorian England abounds with vampire nests and werewolf packs and this background is so well written that the reader easily accepts this world.
The BBC TV series starring Benedict Cumberbatch and Martin Freeman has created much interest in the detectives, and readers who enjoy angels and hell hounds as well as mysteries could well find this an enjoyable read.
Themes: Mysteries, Angels, Hell hounds, Supernatural, Sherlock Holmes.
Pat Pledger