The Adventures of Tzar the Paddington Poodle : Goanna Encounter by Catherine Toth-Lacey. Illus. by Brian Tisdall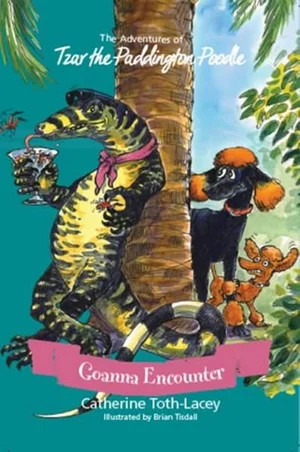 This is the second instalment of these travel and adventure stories featuring the two Paddington poodles, Tzar and Ziggy. The series began with the title Crocodile encounter which was set in Mission beach on the North Queensland coast. This next book has the equally beautiful setting of Port Douglas a little further north. Two other books in the series are Brahman Bull encounter set in the outback and Tasmanian Devil encounter set in Tasmania.
The poodles have set out to explore their beautiful surroundings only to find themselves drawn into the rescue of a young boy who appears to have gone missing. They encounter a large goanna who is terrorizing the boy and quickly go to the boy's rescue. But the real adventure unfolds as Tzar is returning to their holiday accommodation and is captured by dog control officers as a stray. He is put into an animal rescue centre fearful that his life could soon be terminated. Ziggy and the other animals must find a way to work together to rescue Tzar.
The feature that sets these books apart from many novels in this genre is the inclusion of the many interesting and unique forms of wildlife in each of the locations Tzar visits. The creatures form friendships with this interesting looking dog out of curiosity, and the readers are treated to facts about each one as part of the story. In addition, at the end of the books there is an animal glossary which gives a short paragraph about each animal encountered including whether it is endangered or not. There is also a vocabulary glossary to help with the longer words used in the story. A resource list of websites is included along with details about how to contact Tzar and Ziggy on their website, Facebook or Instagram pages.
The illustrations by Queensland artist Brian Tisdall are colourful, detailed, often full or half page and greatly enhance and expand the story for the reader. Middle Primary readers will thoroughly enjoy the adventures of Tzar and Ziggy. I think the books would read aloud well to Junior Primary students.
Themes: Australian animals, Poodles, Animal shelters, Cooperation.
Gabrielle Anderson