The accidental penguin hotel by Andrew Kelly. Illus. by Dean A. Jones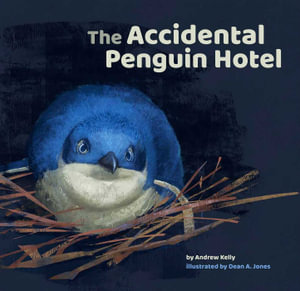 The story of the new penguin colony at St Kilda in Port Phillip Bay is endearing as Kelly outlines the life of the little penguins, so well known for their habitat on Phillip Island off the coast of Melbourne. Visitors flock to see the penguin parade on the island, and now some 1400 have colonised the new breakwater inside the bay. In this richly illustrated book, the text rings with charm and warmth as Kelly postulates on how the penguins made the leap from their colony south of Port Phillip Bay to St Kilda.
He personalises the story, showing the penguins hunting in the bay, filling their bellies with fish before returning to their burrows to feed their partners and their chicks. The older pairs have built their own burrows in the safest spots on the island and the younger males have nowhere to build a burrow attractive enough to find a mate. But a breakwater has been built at St Kilda, the huge rocks revealing lots of crevices, eventually filling with sand and small grasses. Just the spot for a new burrow. One makes the leap, staying at the breakwater, setting up a new burrow to attract a mate, after the others return to their island home.
The illustrations for this magical story are outstanding, revealing the penguins swimming beneath the waves, staying clear of the surfers above, fishing and nestling in their burrows. The image chosen for the front cover make it a book that must be picked up and read. Each picture tells a story about the environment in which these little animals live, their habits and the way they survive. And despite all the intrusion we have made on their lives, they have adapted a man made shelter as their home. The last double page spread of the two penguins against the background of the Melbourne night skyline of buildings will impel readers to think about the impact we have had on our native animals. Turning the page reveals an outline of the penguin's year, along with several paragraphs giving more information about the little penguins near Melbourne. Kids will be thrilled.
More about this new colony can be found here.
Themes: Environment, Little penguins, Melbourne, St Kilda (Vic.), Phillip Island (Vic.), Port Phillip Bay (Vic.).
Fran Knight