Terry Denton's bumper book of holiday stuff to do! by Terry Denton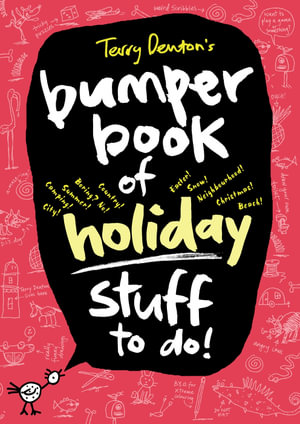 For those children who love Terry Denton's sense of fun and humour this re-released Bumper book of holiday stuff to do will provide hours of enjoyment and entertainment. From the start of the book to the end there are so many creative activities for young readers to take part in as well as being able to follow the antics and conversations of bird and horse who travel through and appear on each page of the book. The book begins with the end of year school concert where the class teacher naturally is drawn as the big bad wolf and travels through the Christmas holidays to the new school year where the young artist can design their own sensible school uniform. Beginning the school holidays the reader can create their own holiday to-do list as well as their own holiday to-don't list. They can decorate the Christmas tree as well as decorate the parents. One very clever activity is several pages designed to explain step-by-step perspective drawings. There are mazes and tick box tasks to complete as well as many drawing ideas to build upon.
A great gift idea for the child who loves to draw and be creative.
Themes: Holiday Fun, Puzzles, Drawing, Creativity.
Kathryn Beilby