Ten delicious teachers by Ross Montgomery and Sarah Warburton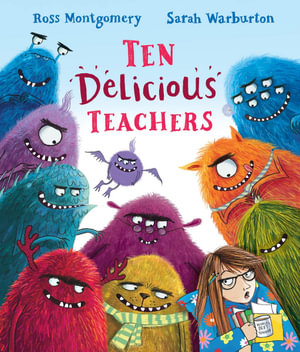 For little ones who would delight in the idea of their teachers being eaten by monsters, comes this rhyming picture book about just that. 'Ten tired teachers are finished for the day, The kids have gone, the homework's marked, the chairs are tucked away' and they're off home. Too bad they've missed the last bus...would they brave the shortcut through the dark forest? And so begins the countdown from ten to one as each teacher is cornered, tricked or trapped into the jaws of a monster. Miss Hunter, the nursery teacher, is the last one standing. But being a feast for a monster is not something she will tolerate. 'Stop that at once!', she shouts at the hungry horde, before declaring their need for a proper education. 'Ten uneasy monsters at their brand-new monster school, Learning how to be polite and follow all the rules'.
The illustrations in this are perfection and the text is wonderfully paced and fun to read aloud. There is plenty of discussion to be had with children about what is going to happen next, particularly on the front cover that features ten monsters rather than ten teachers. They will also love the naivety of the teachers, who trust the sign that declares 'no monsters here!' and don't notice the monsters lurking in the trees. The hairy, colourful monsters are not scary and while the teacher feast is implied it is in no way evident within the pictures. This is a fun, nonsensical read aloud with wonderful illustrations (and particularly great endpaper artwork).
Themes: Teachers, Counting Book, Monsters, Rhyming Story.
Nicole Nelson