Team Trouble! Whodunnit, Eddie Woo? by Eddie Woo & Dave Hartley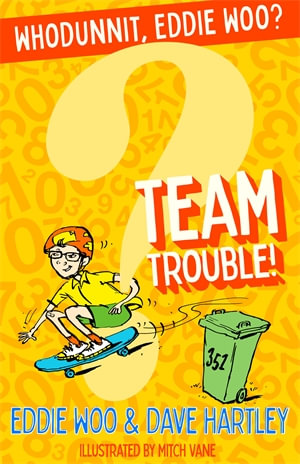 In Whodunit, Eddie Woo? Team Trouble Eddie Woo has collaborated with author Dave Hartley, to write an adventure book full of problem solving and super-sleuthing. This story begins with the three best friends, Eddie, Rusty and DT practising their skateboarding skills. This is one area that super-sleuth Eddie does not shine in and as the friends are entering the school's annual Triple Threat Quest, a competition where teams compete across three subjects: performing arts, academics and sports, Eddie has to prove he will be an asset to the team.
However, there is a more pressing problem at hand. The nursing home where family friend Mr Appleby lives is suddenly being closed down within the week. The nursing home has been bought by Blade Industries and the regular staff have been replaced by dubious carers. Mr Appleby secretly leaves clues for Eddie, Rusty and DT, and along with unexpected support from Eddie's parents, they have a task in hand to find out the sinister side to Blade Industries. When it is realised that the number of Swift Parrots have begun declining dramatically from the area where the care home is, it is up to the Super Sleuths to investigate and prove that Blade Industries is involved in illegal bird smuggling.
Both this book and Whodunit, Eddie Woo? Time Out! are wonderful reads for middle grade students who enjoy humour and action, and those older readers who are challenged by more lengthy novels. The illustrations are perfectly placed and the use of a variety of different text presentations keeps the reader engaged.
Themes: Friends, Humour, Problem solving, Mathematical Clues, Adventure.
Kathryn Beilby