Tamarra: A story of termites on Gurindji Country by Violet Wadrill et al.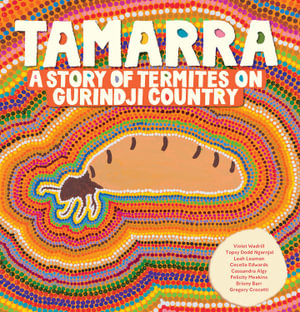 Tamarra: A story of termites on Gurindji Country has been written by 30 First Nations and non-Indigenous people and gives a fascinating insight into the habitat and life cycle of the termite on Gurindji Country. Working together for over four months in 2021, Gurindji Elders, storytellers, artists, translators, scientists, and a linguist, have created a stunning factual picture book about the termite and its strong connection to the First Nations People of the area.
The initial introductory pages provide a map of Gurindji Country, an explanation of the word tamarra with the pronunciation 'DAH-mah-rrah', the languages used in the story as well as a thoughtful glossary of some Gurindji words with their English translation and pronunciation. There is also a QR code shaped as a termite mound where the story is read in Gurundji and glossary words are pronounced. The double page following provides information about termites with photographs and a clearly labelled diagram giving vital facts about this ingenious insect.
The story begins with the birth of a baby and how the grandmother will use some of the termite mound as a treatment to strengthen the baby's body and spirit. The preparation of the termite mound and the information shared about the ceremony is fascinating. This is followed by the essential role spinifex plays in the life of the termite. The reader is given further information about the termite mound, the gut of the termite, what happens during and after the rain season and the future of the Gurundji culture. The final pages share the behind-the-scenes story with detailed information about the Tamarra Project.
Each glossy double page is strikingly presented with information written in a First Nations language as well as English, a 'Did You Know?' bubble with interesting facts, a sharp and clear photograph, plus a magnificent full-page painting related to the text. There is also a clever key at the bottom of each page of information. The impressive cover and endpapers along with the vibrant paintings and photographs throughout, will draw readers both young and old to this very special book. A wonderful resource for schools and public libraries that will provide so much new learning for all.
Themes: First Nations People, Gurindji Country, Gurindji, Gurindji Kriol, English, Termites, Family, Nature, Story, Seasons, Science.
Kathryn Beilby