Symbols of Australia: Imagining a nation by Melissa Harper and Richard White eds.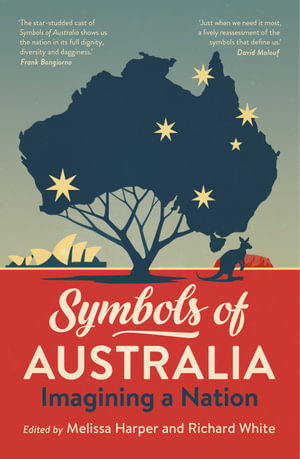 "Symbols of Australia offers illuminating and unexpected insights into the symbols that surround us: from Uluru to the Australian flag, the rainbow serpent to Holden cars, the democracy sausage to the Great Barrier Reef. Entertaining, provocative, informative, and often surprising, Symbols of Australia reveals a great deal about the ways nations are imagined and how they imagine themselves." Publisher.
Twenty nine chapters, all written by experts, make up this fascinating book that will intrigue readers who are interested in Australian history. It is easy to scan the Contents page and pick a topic that is of interest to the reader. For example the topic of Vegemite goes into the history of its development, the clever marketing that went behind it, and even the development of the very popular radio jingle "We're happy little Vegemites as bright as bright can be.." Cricket fans will love the chapter on the Baggy Green, while the Opera House and Uluru also feature. Two sections of photographs are included and I enjoyed looking at the depictions of the symbols of kangaroos, wattle, flags, the Opera House and the democracy sausage.
This book is one that will be picked up and browsed through by history buffs and readers who like knowing about Australian icons. It is suitable for home, school and public libraries.
Pat Pledger