Super-me by Jane Martino. Illus. by Annie White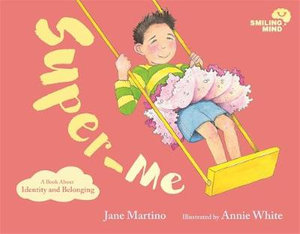 Super-Me is the second picture book in a new series developed with leading Australian mindfulness organisation, Smiling Mind.  The author Jane Martino is a cofounder of Smiling Mind, a not-for-profit organization dedicated to providing free pre-emptive mental health and well-being programs via their apps and website. In this sensitively written and highly appealing story, Sonny is beginning school. On his first day he is naturally apprehensive and has butterflies in his tummy. He grabs his tutu on his way out of the house because when he wears it he feels fearless and he becomes Super Sonny. Once in the school yard Sonny puts on his tutu to help him cope with the newness and unfamiliarity. Sadly he is ridiculed by other children but his teacher rescues him and offers a solution to wearing the tutu. However Sonny finds it hard to focus on the school day without his tutu until his teacher asks the class to talk about their own special thing. His teacher explains that each person is different and likes different things and Sonny realises that everything is going to work out at school.
This is beautiful story to share with children who are beginning a new school year. The thoughtful illustrations by Annie White perfectly complement the text.
Themes: Well-being, Identity, Belonging, First Day at School, Gender.
Kathryn Beilby