Strangely enough: Short stories for strange times by Gillian Hagenus, ed.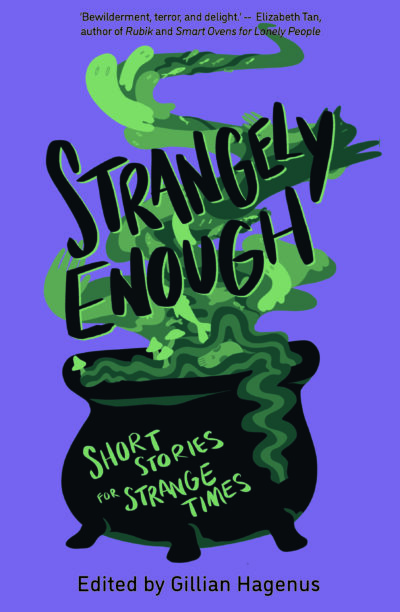 This collection of Australian short stories for strange times was quite appropriate to be reading at Halloween, the ideas behind some in Strangely Enough are truly strange. For tricks, try the puzzling appearance of the giant crocodile headed god of the Nile, inhabiting the wastewater system of a modern city in Mathew Hooton's 'Visions of the Afterlife', or the manifestations of dream simulacra existing in Marian Matta's 'Those Forgotten Dreams'. For a treat try the clever transition from owner to owned in Deborah Frenkel's 'Cat/Lady', or the very trippy 'Noodles at 8' by Shaeden Berry. Victoria Griffin's 'The Builder/Dreamer' channels Tom Waits' 1999 recording 'What's He Building' introducing modern surveillance into the paranoid mix, to protect corporate market dominance from a possible innovation, and for something completely different there is Mycelium Bride. R.T. Wenzel immerses us with Sister Agnes in the moist dark world of fungi, whose 'thready rasping voices slid in her ear and wormed through her brain', whose vocation is clear as she thinks about those tumescent fruiting bodies and tendrils that wrap her safe and tight.
After each story there is a short piece about the author and often a link to other works. None of the stories are very long, most about 10 pages and there will be something to pique the interest of the most jaded reader. Selected stories might make a good study of the form for senior students or a read aloud treat for Halloween.
Themes: Supernatural, Grief, Change, Fear, Fantasy, Dystopia.
Sue Speck