Stop the Dad jokes! by Adrian Beck. Illus. by Simon Greiner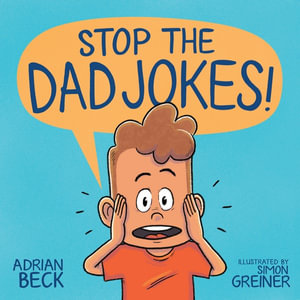 Anyone who has had to listen to corny jokes will empathize with this young boy who is off too the zoo with his dad. He thought it was going to be fun until Dad told a joke. Dad insists that it is every dad's mission to tell Dad jokes, and goes on to demonstrate how the giraffe, lion, crocodile, elephant, leopard and other animals all like to tell jokes. And then on a double page spread, are some very weak, funny jokes ('What do you call a pig doing karate? A pork chop!') that will have the young set giggling themselves silly.
The rhyming narrative lends itself to being read aloud and will be a source of much fun and laughter in the family. Greiner's illustrations, in bold colours, outlined in black, are also a source of amusement, especially the long-suffering expressions on the faces of all the young offspring, both human and animal. It is not difficult to imagine the author and illustrator getting together to laugh about the jokes that they share in this very funny book.
Ideal for Father's Day, reading the Stop the dad jokes! will be a source of happiness and will have everyone laughing.
Themes: Humour, Jokes, Fathers.
Pat Pledger