Stop that dinosaur by Alex English and Ben Cort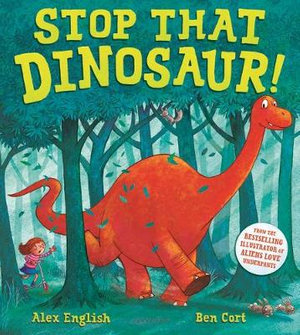 Lured in by a big friendly red dinosaur on the cover, being chased by a small girl on a scooter, children will be sure to enjoy this rollicking tale of a dinosaur who stole Granny and ran away with her. Told in fabulous rhyming language and with the refrain of 'Stop that dinosaur!', this book begs to be read aloud and is sure to have children chanting the refrain over and over. The little girl is frantic, desperate to rescue her Granny. She chases the dinosaur down the street, across the playground, through the long grass and into the wood, all the time calling out 'Stop that dinosaur!' When she trips and falls over, crying noisily for her gran, the dinosaur relents, saying that he really wants a gran of his own to look after him. Children will have fun predicting what the little girl and her gran will do in answer to the dinosaur's pleas.
The illustrations are bright and eye-catching. Cort perfectly captures the fear on the little girl's face as her Gran is kidnapped, and the determination that she has as she chases after the dinosaur. Gran looks like a modern grandmother, wearing a striped skirt with her hair cut in a bob, while her face shows the love and kindness that is part of her personality. The dinosaur, coloured in vivid red, is a real character too, and kids will identify with his need for someone to help his loneliness.
Themes of love, resilience, stealing, and acceptance are woven throughout and could lead to some interesting discussions. But it is the humour, great rhythm and gorgeous pictures that will win the reader over and make it a story that could well become one that is read over and over again.
Themes: Love, Stealing, Resilience, Dinosaurs, Grandmothers, Loneliness.
Pat Pledger