Star by Artelle Lenthall and Margaret Dewar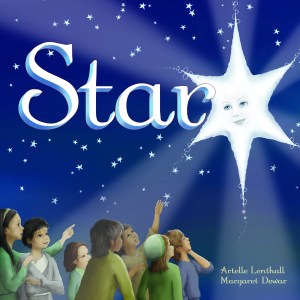 The Nativity story is well known, but this book tells the story of the star's role at the time of the birth of Jesus.  Star is initially just an unspectacular 'twinkler', but an Angel reveals that Star has a starring role that will come. Star's compassion for Mary as she travels to Bethlehem causes Star to grow and burn more brightly and to have a guiding role in the Nativity story.
This re-telling of an exceptionally well-known story with a slightly different perspective has a gentle, understated feel. The usual emphasis of the story (the infant Jesus) is revealed, but the Star's transformation and importance while shining with compassion, is the empowering quality and focus. Margaret Dewar's illustrations for this story are delightful and their clarity shines on every page. This can comfortably be added to a library or family collection and read to young children prior to Christmas.
Themes: Christmas nativity, Stars, Compassion.
Carolyn Hull