Spot visits his grandparents by Eric Hill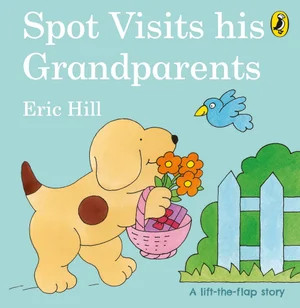 Another book in the favourite Spot the Dog series will be welcomed by small children who delight in the cute spotted dog and his adventures. This time Spot is visiting his grandparents and children will love the front cover showing Spot, with a happy grin on his face, carrying a gift basket and flowers on his way their house. This is a study board book, with the familiar drawings of lovely spotted dogs. It is not difficult to distinguish Grandma and Grandma just from the size of their noses and their expressions show how happy they are to see Spot.
The lift-the-flaps are lots of fun. Spot gets into a cupboard that has cookies; another flap reveals Spot ready to garden with a spade and fork, and children will giggle when another flap reveals poor Grandpa being hosed by Spot. Each double page spread has one sentence or question in big bold print and the other page contains the lift the flap that complements the text. Older children will find that this is an easy book to memorise and may begin the road to recognising words on a page.
Spot also has fun finding things like a ball that his mother played with as a young pup and children will relate to this and may be able to tell of toys that they have found at their grandparents' home. This would make a lovely gift for a child before they go on a trip to their grandparents, or a book for grandparents to keep and read when their grandchildren visit.
Themes: Dogs, Lift-the-flaps book, Grandparents.
Pat Pledger