Specky Magee by Felice Arena & Garry Lyon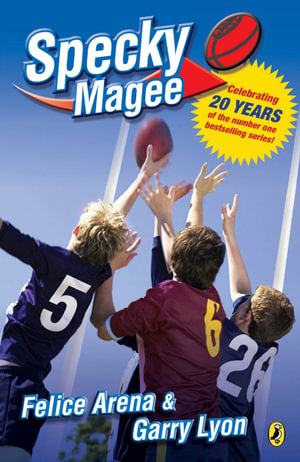 Commemorating the 20th Anniversary of the first Specky Magee book that began the series, we see the celebration of this Aussie Icon. With entertaining introductory notes from co-authors Felice Arena and Garry Lyon, we get a behind the scenes understanding of the lovable banter and long-time friendship between the two. Anyone who loves the game of AFL is sure to enjoy reading Specky Magee time and time again!
Meet 12 year old, Simon 'Specky' McGee - a true lover of AFL! He earned his nickname from his awesome marking ability and great footy talent. But he is stumped as to why no one else in his family shares the same passion as himself. His sister, Mum and even his Dad take little interest in his enthusiasm and love for the sport. Isn't it true that traits get passed down from generation to generation? If so, where did he get his from? All his other footy friends have family that watch every single game, but his Dad has never even been to one of his… and this makes him really sad. So, when he finds a baby photo of himself in AFL footy clothing, this just doesn't make sense. Specky is determined to find out some answers, but will he be ready for what he uncovers?
A beautiful tale sharing the true meaning of family, with some great Aussie Rules game manoeuvrers thrown in. Felice Arena and Garry Lyon have ingeniously mastered the true art of storytelling; captivating the audience with an easy read of fast paced excitement and on field tactics, while encapsulating friendship, family and gratitude. If you love footy and everything about it, this book will be a winner for you! Specky is special, in more ways than one!
Themes: AFL, Family, Friendship.
Michelle O'Connell