Skin of the sea by Natasha Bowen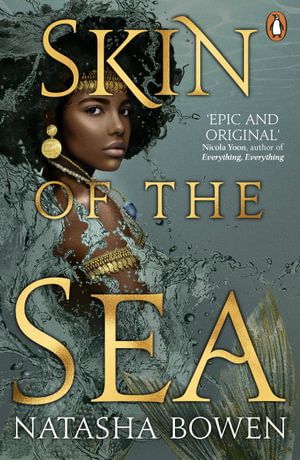 High Fantasy buffs will unwittingly discover this historical fantasy since these Gods, mermaids and creatures from Nigerian mythology are largely unknown to many readers.
Set off the coast of West Africa in the 15th century, soon after the Portuguese colonial slave trade began in earnest, Simidele (Simi), one of the newest Mami Wata (Mermaids created and commanded by the Osira, Yemoja) makes a serious mistake. A young man, Kola, is cast into the sea in irons but he is still alive. Unprepared for a living human, Simi intervenes to save him from death by drowning - overstepping the instructions of her Osira to simply harvest the souls of abducted Africans who have perished.
The quest which follows attempts to undo the harmful affront to the supreme being, Oldamere, and is geographically if not temporally epic. Kola has his own to navigate and the two team up to save their nearest and dearest (Kola's twin siblings on whom the fate of his homeland depends) and ultimately their respective realms. Love may be burgeoning but the gods decree it an impossible one. Will Simi, Kola, Salif, Yinka and Issa find the sacred rings and will Taiwo and Kehinde unharmed?
Without a sociogram or hierarchy, readers rapidly decipher who is who, regardless. From powerful Osira's like Yemoja, Olokun, Osun, Osanyin, Orif and Esu with their respective roles assigned to them by the God, Olodumare; to intermediaries like the local Babalawo. Add in Yumboes or Bakhna Rakhna (fairies), mythical creatures including; Ninki Nanka, Mami Wata, Abada or the Sasabonsam (hyena people) and be transported in the manner of high fantasy. Which mythical creature will be your favourite?
There's an official trailer but for all the background information to this compelling new series watch Natasha Bowen's conversation with best-selling author Nicola Yoon.
Simi is not only the black mermaid vying for representation in literature but she teaches us so much more. It's a history lesson to show that there was a rich black culture, knowledge and history eons before slavery.
Simply, Bowen has created a bold new heroine for modern children of all cultures as she couldn't see herself in the tantalizing Disney mermaids, as a child. A powerful YA debut infused with west African mythology, the Skin of the Sea series should excite fans of Namina Forna, author of The Gilded Ones.
Themes: YA, Epic Fantasy, Mythology - West African/Nigerian, Mermaids, Black Representation.
Deborah Robins