Sid & Skipper go mustering by Heather Charlton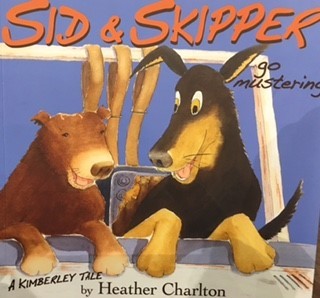 Sid and Skipper go mustering in a story full of life and adventure as the reader is taken on one of the tasks that a cattle station in Australia's north undertakes. All the background sights, noises and smells of the cattle station are there as the men ready themselves for days away form the homestead. Swags rolled, tucker box filled, choppers filled with fuel, utes checked out. And hanging around are the kelpies, an essential part of any station in the Kimberley. Sid, the old dog, is battered by life's trials, shortened ears, scars across his face, annoyed by the young pup, Skipper who lives up to his name. Sid doesn't seem to be able to teach the new dog anything, in fact Skipper seems always to get in his way.
But one day the choppers cannot be used as the weather is closing in, and so the dogs come into their own. But one bull stares Sid down, and he falls into the swollen creek. Almost drowned, he is saved by Skipper who hauls him up onto the bank and then runs off to brave the bull, Vesuvius, until he is able to force him to cross the creek, making the others follow his lead. The muster done, the cattle yarded, the two dogs settle down to perfect their friendship.
This is a lovely story of growing friendship, or looking out for each other, of allowing younger dogs to have their play time, always assured that they will come into their own. The two dogs will delight younger readers, and absorbing the story will see that ties of friendship may not occur straight away, but they will bond. The background of the cattle station is beautifully shown. Readers will take in the equipment needed, the vast emptiness, the fences, kitchen hut, the baob trees, the desert landscape while life on a station for the hands is documented through the text and illustrations. At the end of the story they will have learnt a lot of detail about this iconic way of life in the outback, reflecting Charlton's own experience living and working on a Kimberley cattle station. Her intimate knowledge shines through the humour of the story and its illustrations. Teacher's notes are available.
Backroom Press was founded in 2006 by Pat Lowe, Susan Sickert and Joyce Hudson to publish entertaining and educational books from the Kimberley, WA. The three friends published two titles in September 2006. A number of books for younger children were also published and these seem to be the main concern of this small outfit. For more information about this publisher and to purchase the books go to https://backroompress.com.au/
Themes: Outback, Kimberley, Western Australia, Cattle stations, Kelpies, Working dogs.
Fran Knight