Shelter by Catherine Jinks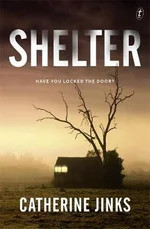 Meg, fleeing from an abusive husband, now lives alone in the bush. When approached to shelter Nerine and her children, she agrees although she is breaking the law as her home is a perfect place to hide, isolated and lonely. But Nerine wants her to get a gun and her children are terrified. Then frightening things begin to happen. Has her abusive husband tracked her down, or is Nerine's violent husband prowling around?
Jinks' use of ordinary occurrences to build suspense is frightening. The sound of wind chimes when there is no wind, a flyscreen found on the ground, a footprint in a garden bed, are all things to which the reader can relate.  The tension is ramped up gradually with Nerine's insistence on needing a gun to protect herself and the children's willingness to hide in a safe place. Meg's recounting of the way that Keith, her husband, psychologically abused her and her daughter also adds to the reader's trepidation about who is lurking around the house.
This dark and gritty psychological thriller kept me glued to my seat as I followed Meg's dilemmas and desire to protect the children. Many chapters ended on a cliff hanger, ensuring the book was read in a couple of sittings. Unexpected twists and turns surprised and an ending that left me gasping made for an unforgettable read, while the setting will appeal to those who enjoy rural noir novels, like The lost man by Jane Harper.
I will certainly be recommending this thriller to my Book Club. Book Club notes are available from the publisher.
Themes: Domestic violence, Psycholgical thriller.
Pat Pledger