Shackleton's endurance: an Antarctic survival story by Joanna Grochowicz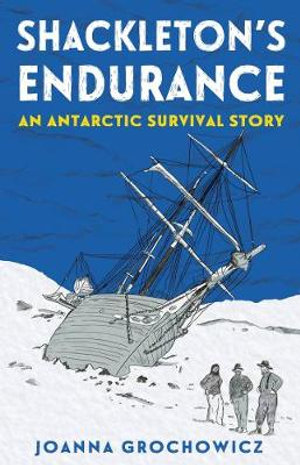 Adrift on the Antarctic pack ice with no means of escape and no hope of rescue, Ernest Shackleton and his men are surely doomed.
I'm just cold thinking of this book and reading the true story about Ernest Shackleton's journey on the Endurance. Joanna Grochowicz has managed to write a thrilling adventure that all readers would like. I could actually visualize the scenes that Joanna wrote about, especially because there are so many new movies and series being available on streaming services to watch. I thought I was pretty clever knowing Shackleton's expedition when the boys in my family decided to watch some of the programmes. Well done Joanna in making a book read like a documentary the YA and adults would enjoy to read.
The book takes us back to 1914 when the world was at war and Ernest Shackleton and 27 men set sail for Antarctica, where their plan was to cross the Antarctic by foot. Only thing was their ship, The Endurance became trapped in the sea ice in the Weddell Sea for nine months. The crew lived aboard The Endurance before they abandoned her in order to make it home alive and spending another six months on shifting ice floes. In this time the Endurance sank. While battling ice, hunger, exhaustion and ocean the men finally reach the desolate refuge of Elephant Island. From here Shackleton and five of the men began another sea journey to South Georgia to bring rescue to the other survivors. With all this adventure it's hard to believe that they never reached Antarctica.
Not only did we read about the expedition we also learnt about the different men that were aboard the ship like Frank Worley and Perce Blackborow just to name a few. We learnt about the disgusting food and the poor penguins and of course the puppies they took with them. The living conditions were …. what can I say, you have to read the book.
Themes: Historical adventure.
Maria Komninos