Shackleton's endurance: an Antarctic survival story by Joanna Grochowicz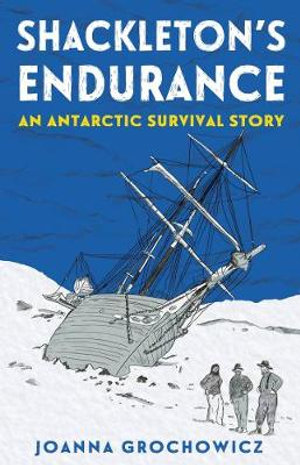 The story of Shackleton and his crew, who in 1914 endured the most horrific of shipwrecks, is one of the most thrilling of survival stories, ensuring that one ship, Discovery, that Shackleton helped fit out, stationed in Dundee, Scotland, will always be a tourist mecca, inviting people to look over the ship and marvel at the story of his life and others in the flurry of Antarctic exploration prior to World War One.
Shackleton and his twenty seven men set off for the Antarctic in August 1914, on board Endurance, aiming to walk across the last unknown continent by foot. It was to take three months. They did not return to any semblance of civilisation until August 1916, surviving two Antarctic winters, a feat unparalleled in the history of Antarctic exploration.
In this absorbing book, Grochowicz retells their story, with maps and diagrams to support the text. A list of the members of the Imperial Trans-Antarctic Expedition, followed by two pages of thumb nail sketches of each member of the team introduces the story, dubbed 'the last great polar journey'.
A useful timeline and maps of the voyage ready the reader for what is in store. And a non-fiction narrative follows - absorbing, heart stopping and intimate.
When their ship was crushed by pack ice, they had no alternative but to make a much more dangerous journey. With no way of contacting anyone with the First World War in its throes, they had to battle extreme hunger, exhaustion, despair, and unimaginable cold. Their leader, Shackleton, was the one man who could pull off such a feat. Determined, inspiring, dogged, courageous, Shackleton fought against insurmountable odds to get all of his men home.
This story bears rewriting over and over again, a testament to endurance, and this book, told in the style of a fictional story will enthral readers of all ages. Teachers' notes are available.
Themes: Endurance, Antarctic, Polar exploration, Expeditions, Courage, Shackleton.
Fran Knight