Second first impressions by Sally Thorne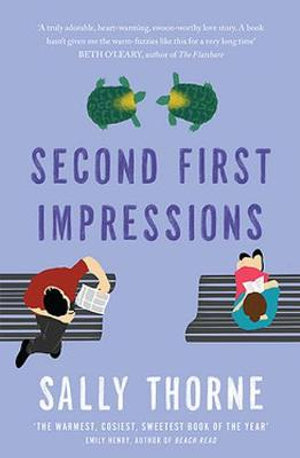 In this fascinating book, Sally Thorne plunges the reader into an environment with which many of us would not be familiar. Setting her narrative on the beautiful coastline hills of the northern beaches of the East Coast of Australia, green-grassed and overlooking over the sea, Thorne presents a stunning setting for her new novel. Indeed, it is this environment that adds greatly to the sanity and enjoyment of the latter years of the lives of the older residents who have chosen to live in this aged care facility, albeit a rather expensive and flash one.
The luxurious residence is alone on the cliffs overlooking the ocean, a place that has many attributes, but one that is superlative. In a most fascinating aspect, this beautiful place is part of a natural environment, one that has a series of verdant cliffs and rich lovely grasses. The discovery of the alluring factors of this residence we see through the eyes of Teddy, a young man sent to the residence to work for a time. Everyone is stunned, as a young, handsome man is not what is expected by the workers or residents, and he is attracted to the woman at the centre of this narrative, one who is working there. She is aware that he is not her 'sort of man', but she is stunned by his glorious 'long, black hair', his relaxed attitude and his charm, and is initially puzzled as it is not common for a young man to be employed in this care-giving community. Indeed, as it is revealed that he is working for his father, the owner of the establishment, we are made aware that he has potentially other reasons to be there. However, he takes on the role of a support-person to two wealthy, older female residents. Not unexpectedly, they are similarly captivated by his looks, charm and personality.
As we are plunged more deeply into the environment and the narrative, we begin to see that the young man's purpose is not quite what it appears to be on the surface, and the changes proposed by his father appear to be challenging to the residents. We gradually become aware that the real purpose of the young man relates to his father's plans for the future.
Suitable for adolescent readers and adults, this captivating narrative challenges us to consider the natural world, the world of sharing with others, clearly positioning us to see how life changes, particularly for older people who need more help at that stage than in their earlier lives. Endowing us with a sense of the vital need, and the potential, for humans to live a life that is rather one that is about sharing our everyday lives with others. Moreover, in a shared residence, we see the value of offering loving friendship and commitment. Sally Thorne is a captivating writer, deftly eliciting an unexpected, deeper response in persuading us how we can and should consider how to live gently on this earth, both for the sake of the natural environment and that of our well-being. This compelling novel challenges us to think about how we lives our lives, particularly as we age, and suggests that commitment to socialising with others, is important if we are to consider choosing to live a 'fulfilled good life'.
This would be most suitable for both older adolescent and adult readers.
Themes: Retirement villages, Carers.
Elizabeth Bondar