Santa loves Australia by Collette Dinnigan. Illus by Luke Sciberras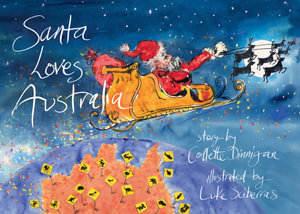 No child will be able to overlook a book about Santa and Christmas, especially looking at the annual present giver and his sleigh filled with gifts travelling across the Australian night sky.
Children will eagerly read of their journey to some very well known Australian sites, as well as meeting some easily recognised Australian fauna with a little flora thrown in for good measure. They will laugh out loud meeting the emu and his chicks at Uluru, chuckle at the kookaburras in the eucalypts in Queensland, dive with the turtles on the Great Barrier Reef, cackle with the cockatoos doing their high wire act. All set with lively and colourful illustrations, evoking intense interest from children when shown detailed and involving images to look at.
Santa and his entourage whistle though the mouth of Luna Park, scoot under the Sydney Harbour Bridge and fly over the Opera House; koalas and wombat are seen in the ACT, and the beautiful back streets of Melbourne appear, before flying over Bass Strait to see Cradle Mountain and the Tasmanian Devils. They follow the Outback Highway to the Flinders Ranges, spying a huge lizard lying across the road, before meeting the Menindie Lakes, then going north to the Kimberley.
A map of Australia would be useful for children to follow Santa's trail across Australia and I know teachers and parents will have one at the ready to reinforce the continent, its states and territories, unusual sites, animals and vegetation. A whole unit of work could emanate from this book and others like it (Are we there yet? Alison Lester, Amazing Australian road trip, Jackie Hosking, Mr Chicken all over Australia, Leigh Hobbs to name a few)
Themes: Australia, Journeys, Travel, Humour, Christmas, Australian flora and fauna.
Fran Knight