Rumble, rumble, dinosaur by Katrina Charman and Nick Sharratt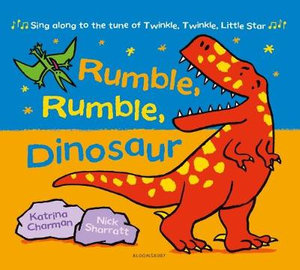 Lured by the statement on the cover that the reader can sing along to the tune of Twinkle, Twinkle, Little Star, I attempted this and was amazed at how rhythmic the narrative was and how Charman managed to fit the names of dinosaurs like pterodactyls into wonderful sounding rhymes:
Pterodactyls flying high
Watch them as they zoom on by
Laughing, playing with their friends
Dino fun-time never ends
Pterodactyls flying high,
Soaring, swooping through the sky.
This is a perfect read aloud, or sing along as the case may be, and will be welcomed by youngsters. Emerging readers too will find the bold print and repetition fun to try as they begin to attempt to read. Children will also enjoy all the action words in the text and could have fun matching actions to the words: 'soaring, swooping', 'stomping, stamping', 'splishing, splashing'. At the same time, they will learn the names and appearance of these dinosaurs: Pterodactyl, stegosaurus, kronosaurus, triceratops, velociraptors, diplodocus, and t-rex.
The illustrations are vividly coloured and really complement the text. Each of the dinosaurs has a happy expression and the illustrations clearly show some of the main features of the dinosaurs in a fun way. I loved the diplodocus with a long neck eating the topmost leaves of a tree, while his large feet stomped along, and his long tail swished around the text. The dinosaurs coloured in blue against a yellow background on the endpapers beg for the young reader to find different ones too.
There is much to like in this energetic and fun book, and I believe it will be a firm favourite will young children and their caregivers alike.
Themes: Dinosaurs, Sing along, Read aloud.
Pat Pledger