Rules for vampires by Alex Foulkes. Illus. by Sara Ogilvie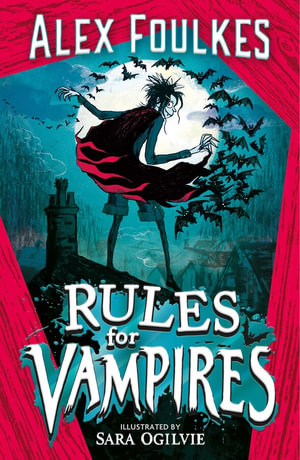 Rules for Vampires is a debut novel for Alex Foulkes. Filled with spooky and ghoulish adventure, it is sure to keep many readers entertained. Creatively illustrated by Sara Oglivie this story is full of suspense, and at times horridness. However, the underlying thread of friendship, determination and teamwork, leaves this story with a lot of merit. If you enjoyed Wizards of Once, by Cressida Cowell, and don't mind some vampires, bats and ghosts, this book is sure winner for you!
Protagonist Leo is one hundred and eleven-years undead and is learning how to be a good vampire. Now being a vampire can be pretty cool, but it does come with strict rules. Leo is still coming to grips with the whole thing, and she hasn't had the best of luck so far! So, she is a little nervous with the immense pressure she is put under by her mother, Lady Sieglinde Von Motteberg, a formidable and intimidating vampire. She must uphold the family name and complete her first successful mission; to hunt a human and complete her Waxing Moon on her birthnight.
Leo sets off with a great idea to target the local orphanage and find her victim. Unfortunately, all her carefully thought-out plans go off course when she runs into the Orphanmaster; the nastiest and most horrid man you will ever meet! Now everything is turned upside down. Not only has she broken so many vampire rules in one night, she has also created two very angry ghosts. A vampire's true enemy!
When orphan target, Minna turns up and demands Leo help her avenge the Orphanmaster, Leo doesn't know what to do. How can she possibly work with a ghost? What will she tell her mum about the unsuccessful Hunt? And how can she possibly rid the town of the grisly ghosts she has created?
With more twists and turns than you can imagine, this book has great suspense and thrill. The chaotic and catastrophic ending will leave any reader gasping for breath. Undead vs Undead, how can they compete and who will be the winner?
Themes: Adventure, Problem solving, Friendship, Gothic.
Michelle O'Connell