Round the twist by Paul Jennings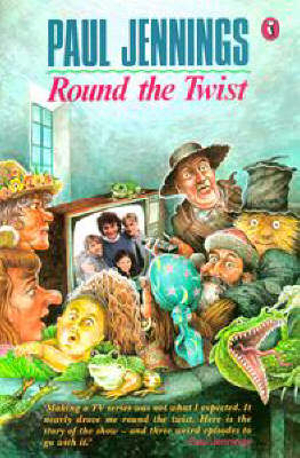 I confess that I have watched many episodes of the Australian Children's Television Foundation series Round the Twist. Many of the stories are part of my family's folklore and I have enjoyed the simple and twisted humour created by the original author, Paul Jennings (with additional creative input from Producer and Script consultant, Esben Storm). This book tells three stories that inspired three programmes in the Round the Twist series. It also tells the backstory to the television and film-creation process from the perspective of the screenwriter and author of the original stories. With a resurgence of interest in the series due to Netflix exposure, young readers may be interested in finding out more about the screenwriter and the stories behind what they see.
Because of the divided focus of this book there is slight confusion in what to concentrate on as the pages are turned in this book. On the left side pages there is commentary about the film-making process and introduction to the actors involved. The three stories are printed on the right-hand pages. For a young reader this may create some distraction of their focus, but it won't take them long to work out which page interests them most. The book is not high-powered literature, but may interest readers of humorous stories. This book is an 'oldie', republished after many years… but could comfortably reappear on library shelves.
Themes: Short stories, Television, Scriptwriting, Humour.
Carolyn Hull