Rosie the rhinoceros by Jimmy Barnes. Illus. by Matt Shanks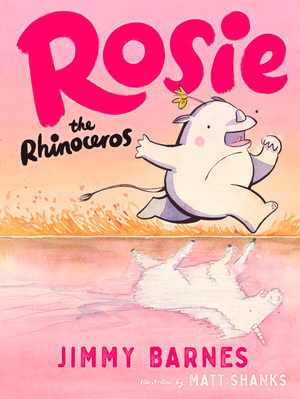 A heart-warming story, readers will fall in love with Rosie the rhinoceros and the book is sure to become a family favourite. Rosie is a little rhinoceros who is convinced that she is a unicorn. She is energetic and never wants to sleep in and when she looks at her reflection in the water all she sees is a unicorn. She is such a positive little creature. She asks Mr Giraffe if he had seen the glorious sunrise; tells Mrs Lion that is a stupendous day and Mrs Elephant that it is an exquisite morning. When all the animals she meets tell her that she is a little rhinoceros, she does not believe them – because she has a pretty horn, dainty hooves and is sleek and makes friends easily. She then decides to get Mrs Elephant to gather all the animals together so that she can tell them that she is a unicorn. And because Rosie brings rainbows wherever she goes, the animals agree.
The story was inspired by rock star Jimmy Barnes' granddaughter Rosie, who when playing with her Aunty and sister, refused to be Rosie the rhinoceros and insisted, very loudly, on being Rosie the unicorn. Really well written and flowing beautifully, the reader will fall in love with the happiness that Rosie brings and certainly will want to return to the book again and again. Its positivity makes it a must for the family and school library.
Matt Shanks' illustrations are lovely and bring Rosie's personality to life. I love the way he shows Rosie's shadow as a unicorn and there are lots of little details, like a snake that looks like a rock and a little bird that follows Rosie, which will be fun for children to find. The clear black text with some words emphasised in colour and size also make it a book that emerging readers will enjoy. Teacher's notes and activities can be found on the illustrator's website.
Rosie the rhinoceros is a keeper for me, and a delightful and heart-warming story for everyone, encouraging all to be positive and caring.
Themes: Positivity, Individuality.
Pat Pledger