Roobee Roo: that's me! by Nico and Candy Robertson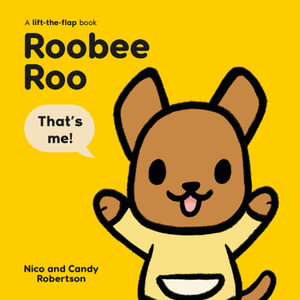 The first in this new series of Lift the Flap books, called Roobee Roo: that's me, has instant appeal for young children as it is a small, hand sized solidly constructed board book replete with bright colours and few words.
In That's me, we are introduced to the most endearing of kangaroos, Roobee Roo, who tells us she has two big eyes, two big ears, two big feet and a magical pouch that fills up with new things every day. A sense of anticipation is built up as the days of the week roll by.
On Monday the pouch fills with crayons, and the flap is pulled down to reveal five crayons. On Tuesday the pouch fills with stories for reading at night, on Wednesday it fills with leaves and nuts collected from the bush, on Thursday she finds building blocks, on Friday it fills with snacks, on Saturday it fills with shakers to sing with and on Sunday a fluffy parrot.
Each day encourages children to talk about things which may be in the pouch, learning the days of the week as the story goes on. The things she finds in her pouch are things which can be discussed and talked about between the adult and the child, as some may be unfamiliar to the smaller reader.
And what fun they will have predicting what may be in the pouch the next day. Roobee Roo and her magical pouch is instantly recognised by toddlers who will be excited by the bright illustrations, emphasis on Australian flora and fauna, and that it is the first in a series. And there is a TV show.
More information can be found here.
Themes: Kangaroos, Lift the flap, Board book.
Fran Knight