Robert runs by Mariah Sweetman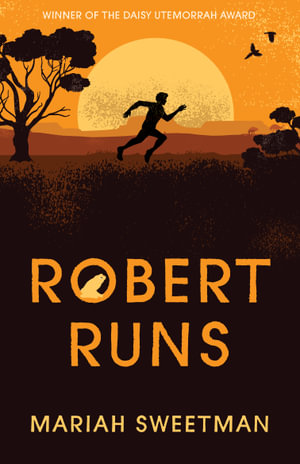 Robert Runs is written by Mariah Sweetman, a proud descendant of Ugarapul people and the 2022 winner of the Daisy Utemorrah Award presented annually for an outstanding unpublished manuscript of junior or YA fiction by an Aboriginal or Torres Strait Islander writer. This deeply moving and compelling novel shares themes of despair, loss and extreme cruelty but also friendship, family and hope. With brutal honesty, it tells of Australia's shameful past, the inhumane treatment of First Nations people and their long search for a place of safety and peace.
This book shares the story of Robert 'Goupong' Anderson who lives in the orphan section of Deebing Creek Mission. Goupong, with good friend Jonathan, are two of the older boys and are looked up to by the younger children but also bullied by their peers. Goupong in particular has a nasty temper and lashes back frequently. The sadistic 'Boss Man' punishes the children regularly and ultimately commits a brutal and heinous crime known as the Deebing Creek Massacre. Throughout the book, we read about the love of running for the children with Goupong's greatest joy the opportunity to win every race. After he is 'discovered' he has the opportunity to race against the fastest white man, Arthur Postle known as 'The Crimson Flash', whom he defeats.
While this book interweaves fact and fiction, it delves deeply into the history of the First Nations people and the horrific conditions they were forced to endure. It tells poignantly of the struggles the children living on the mission had in trying to maintain a connection to their family and traditions. Robert Runs is a powerful and important novel about a time in Australia's past that should not be forgotten. It will be a worthy addition to secondary schools and public libraries. Teacher's notes are available.
Themes: First Nations people, First Nations Language and Culture, Injustice, Family, Colonialism, Stolen Generations, Identity, Religion, Missions, History, Racism.
Kathryn Beilby