Rivers of London by Ben Aaronovitch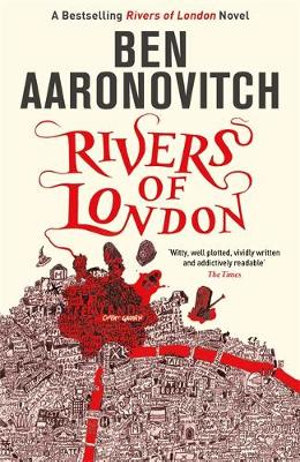 In hard times it is always wonderful to find an author who can make me smile, and Ben Aaronovitch has done just that, while writing in two of my favourite genres, mystery, and fantasy. I have come very late to the Rivers of London series, first published in 2011, but it still reads with a freshness and appeal that will make readers want to continue with the series. Peter Grant is a young constable working for the London Metropolitan Police. Although he wants to become a detective, he is assigned to the Case Progression Unit, which means lots of paperwork and no detecting. When a ghost appears and gives him information about a strange murder, he gains the attention of Detective Chief Inspector Nightingale, in charge of looking into crimes involving magic. He finds himself embroiled in trying to solve supernatural murders where the faces of the murdered fall off, while meeting gods and goddesses of the rivers of London.
The whole setting of London, with the murders happening in and around Covent Garden, is fabulous, but what is most interesting is the attribution of gods and goddesses to the rivers of London. The reader will meet Mother and Father Thames, their children and grandchildren named after tributaries and streams, the most memorable characters being Tyburn, Fleet and Beverley Brook and will have fun looking up all the rivers and brooks that are part of the rivers of London.
For those who enjoy a good ghost story, Rivers of London delivers. Centred around actors from the past and the story of the Punch and Judy show, the action is fast paced and often gory. The humour though comes from the wry commentary from apprentice wizard Peter Grant and while a couple of descriptions of the women he encounters are cringe-worthy, they still fit into the character of this young cop, just beginning to find his feet in a world of women, ghosts, and police.
With a BBC show in the pipeline, this series is sure to become popular and I will continue to read more of the crimes solved by Peter Grant and Nightingale. Readers who liked Rivers of London may enjoy books by Jim Butcher and Neil Gaiman.
Themes: Ghosts, Fantasy, Murder, London, Rivers, Magic.
Pat Pledger