Rise of the Mythix: Flight of the griffin by Anh Do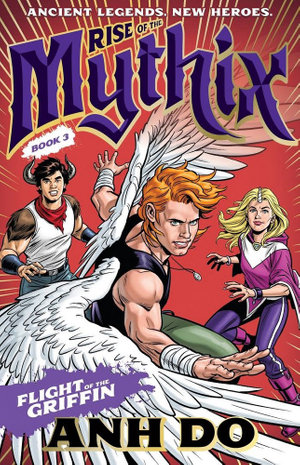 Flight of the Griffin by Anh Do is the third book in the exciting and page-turning Rise of the Mythix Series. Central to this story is the arrival of Jimmy the Griffin. He has been hiding his special skills and biding his time as one of the golden–haired Elite in order to free his parents from the evil William James otherwise known as the Collector. He ensures the release of Kelly the unicorn, Minh the Minotaur and Stanley Solomon who are imprisoned in the Collector's castle. Unfortunately all does not go according to plan due to Minh's uncontrollable rage. Minh and Stanley are separated from Kelly and Jimmy and ultimately Minh is turned into a painting. His canvas is eventually taken by the others after a fierce battle and the four begin a long trek to the source of Kelly's power, Mount Atticus. On the way Kelly learns she has healing powers and finds that the plateau at the top of the mountain holds special memories for her. She is able to bring Minh back to his original self but the Mythix is still in danger. They are continuously under attack from the KG and it takes all their powers to finally fight them off. Just when they thought they would have a breathing space from the malicious Collector, their very presence in the town of Greenfall brings terrible danger to the townspeople. They are forced to present themselves to William James but just when they think they will be able to outwit him, he unleashes a terrifying beast. What will happen next? Book four will hopefully be out soon.
Once again Anh Do cleverly maintains his readers' interest with the right mix of action, suspense and triumph over evil. He understands the need for his characters to be young humans in their responses as well as develop their friendships throughout the course of the book. The graphic illustrations by Chris Wahl provide a visual link to the text and will strongly appeal to middle-grade readers
Themes: : Fantasy, Myths, Legends, Dystopia, Adventure, Power, Good vs Evil, Friendships, Prophecies.
Kathryn Beilby