Read this book and never fart again by Tim Miller and Matt Stanton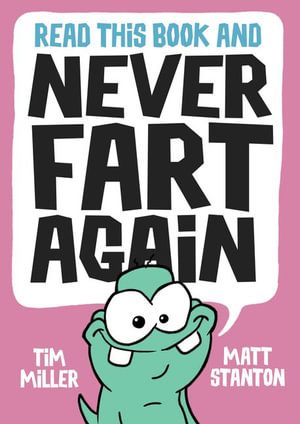 Fans of the Fart Monster series of books will love this latest picture book installment. This DIY guide to ending noisy, stinky farting is structured as a conversation between Ben and his Fart Monster friend. Most of the pages feature no background illustration and just Ben and Fart Monster and speech bubble dialogue. This makes the book perfect for independent reading by those children reading the Fart Monster short chapter books. It also works well as a read aloud though, with beautifully written and humourous dialogue that will have everyone chuckling. Fart Monster may not be into curing his own farts, but he is very knowledgable on the subject and has a magical book: Farts Anatomy: How to cure the common fart. Chapter One involves squeezing your cheeks together, Chapter two involves sticky taping the rear and Chapter Three involes hula hooping while wearing a pineapple hat ('the tummy twisting confuses the fart and it forgets where your bottom is.') The names given to farts will have lovers of toilet humour in stitches (room clearer, tootin' trumpet, under-thunders) and the ending will leave a smile: 'YOU CAN'T STOP A FART!!!' says Fart Monster as he rolls around on the ground guffawing with laughter.
Like the other Fart Monster books this is ridiculous and sometimes disgusting but is sure to entertain and amuse.
Themes: Bodies, Humourous stories.
Nicole Nelson