Rapperbee by Harry Laing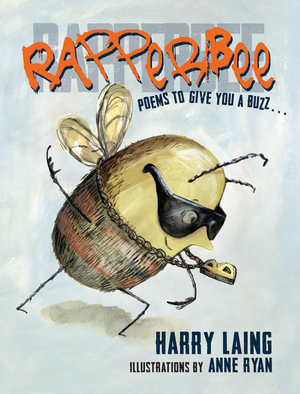 Poet and comic Harry Laing has produced his third collection of poems to entertain primary school aged children. He has creatively used language and words in different shapes and poetry styles such as rhymes, raps, songs, limericks and riddles to engage his young readers. The delightful 'Moon Poem' shaped like a crescent moon, 'Jimi Hendrix and His Guitar' shaped as a 1968 Gibson Flying V guitar and the 'Giant Kelp' poem which is a descriptive collection of words swaying vertically on the page, are well worth sharing with children.
This collection covers a myriad of both surprising and everyday topics written with humour, a light-hearted style and often a message, for example 'Wild River' and 'Plastic is Coming'. Punctuation is minimal but each poem flows succinctly, and the use of space between verses and surrounding the poems ensures the meaning is not lost on the reader. The simple yet clever illustrations by Anne Ryan perfectly complement each poem and provide interest on the page.
This would be an excellent classroom resource when poetry writing is being examined or to have in a classroom library to encourage readers to engage with all forms of poetry. Teacher's notes are available.
Themes: Poetry, Humour, Children.
Kathryn Beilby