Puffin Little Historian: Dinosaurs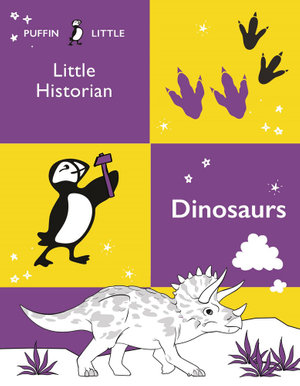 Puffin Little Historian: Dinosaurs is another publication in the very popular and highly engaging non-fiction Puffin Little series. The personal invitation on the beginning pages welcome the reader to take part on a journey with little puffin to find out more about dinosaurs. The book introduces the prehistoric world including information about the Mesozoic Era, evolution and extinction as well as discussing 'What is a Dinosaur?' Other chapters look at the Triassic, Jurassic and Cretaceous Periods and include a range of dinosaurs that existed throughout these periods. Each dinosaur mentioned has a simple illustration, pronunciation of its name, when and where it lived as well as its size and diet and additional information. There is also timeline presented at the bottom of the pages explaining in which period a particular dinosaur lived. There is a detailed section on palaeontology and a fast facts page, pronunciation page, glossary and quiz. The format of the book and the ease of readability of each page will encourage younger readers to feel confident about reading this on their own. As dinosaurs books are continually sought after by younger students, this little book will be a welcome addition to any home, school or public library collection.
Themes: Dinosaurs, History.
Kathryn Beilby